Athens, Greece
Athens, Greece is a history book come to life. It's also unexpectedly super vegan friendly. When I was walking around my hotel in the city Center, I passed by four vegan restaurant within a .5 mile radius, which is more than what I've found in New York City. I only stayed here for two nights, but here are some of my recommendations in Athens!
What to Eat:
Special thanks to @pseudonym00 and the Happy Cow app for all the suggestions! Another tip: "Tell them you're looking for "nistisimo" food which is typically made during Easter when they fast from animal products for 40 days."
This cute restaurant has Western food with Greek favorites too! Pictured below is a vegan version of Moussaka, which is a Greek dish layered with fried potatoes, eggplant, vegan version of ground beef, and a top layer of coconut milk bemachel.
Ακαδημίας 84
(Εμμανουήλ Μπενάκη)
106 78 Athens, Attica
Fully vegan grocery store with tons of alternative cheeses, mock meats, dressings, yogurts, etc. It's a fun place to check out the European vegan products market, but my favorite are the pastries they sell, which often are sold out by end of day. Featured here is a vegan cheese filled pastry!
Ζωοa δόχου Πηγής 8-10
(Σόλωνος)
106 78 Athens, Attica
Crispy falafels that you can get from a small storefront with snack and full portions available. You can get the falafel wrapped or in a salad - just make sure you don't get the yogurt sauce! This falafel is crispier than what I'm used to but still tasty. Get the spicy sauce for an extra kick!
Αιόλου 51
105 51 Athens, Attica
Popular dessert stop that also serves (non-vegan) ice cream. They specialize in Greek-style doughnuts that is essentially delicious fried dough (fried in sunflower oil). You can get vegan toppings like bitter chocolate (featured here), agave syrup, nuts, etc.
Αιόλου 21
(Αγίας Ειρήνης)
105 51 Athens, Attica
Mostly vegan cafe with juice, grab-and-go options, entrees, as well as Greek pastries! Featured here's is the creamy and flaky cream puff pastry and a spinach pie.
Λεωφόρος Ελευθερίου Βενιζέλου 24
(Κοραή)
105 64 Αθήνα
Some other highly recommended places that I did not get to try:
What to See:
Since I had a limited amount of time in Athens, I used George's Taxis to see the city in a day (Best of Athens in a Day tour).
I had an amazing time on our private tour with Kostas from George's Taxi. We were able to see the Acropolis in the morning before it got too crowded and get educated on its history.
Kostas explained everything super well including the long history of Greece, had visual guides, converted everything to feet/pounds/Fahrenheit for us Americans, and never rushed us. He took us to other ancient sites like the Ancient Agora and the Temple or Zeus.
Temple of Zeus
We also saw the changing of the guards, the Acropolis museum, Panathenaic Stadium, and the view of Athens from Lycabbetus Hill.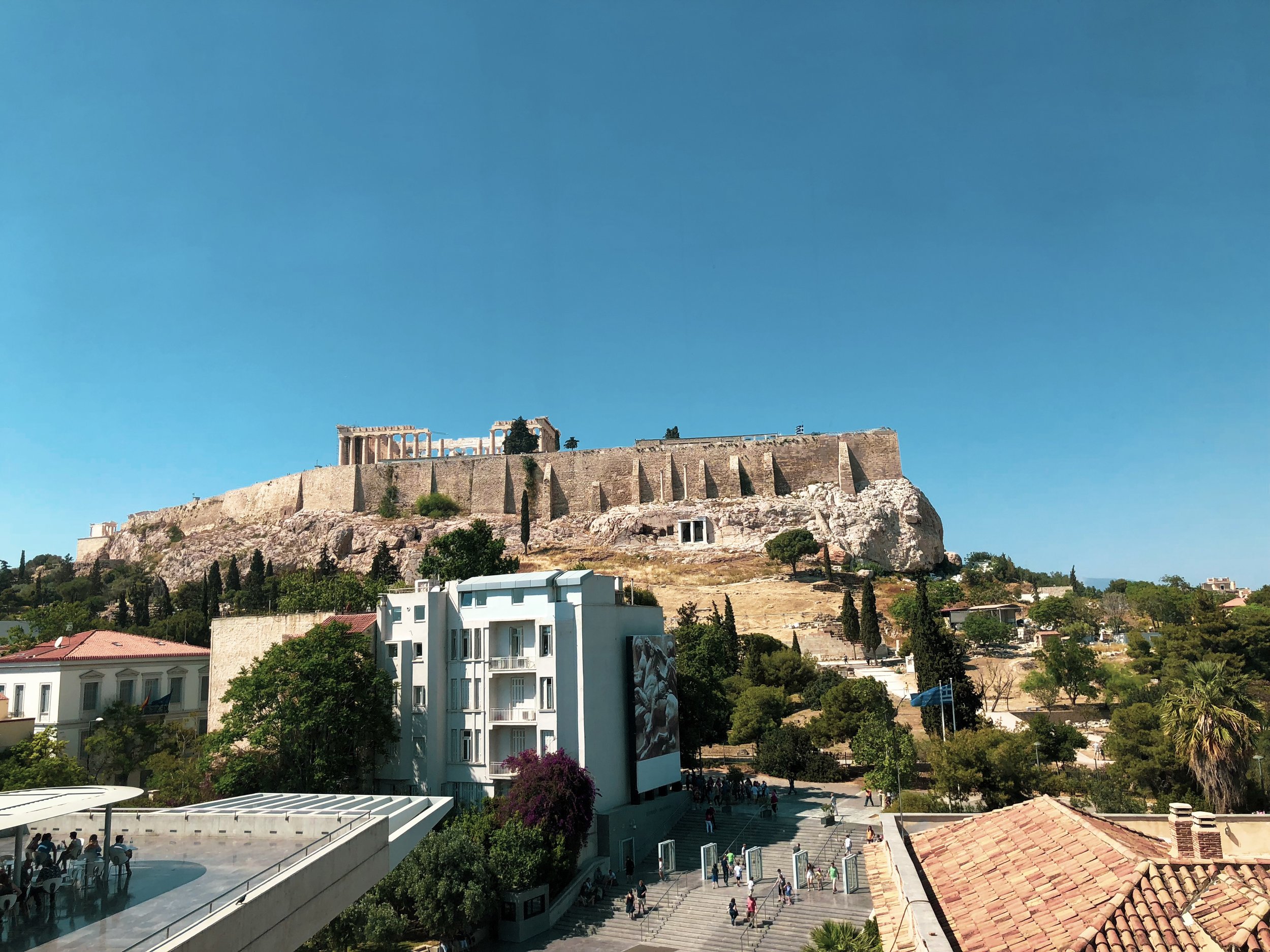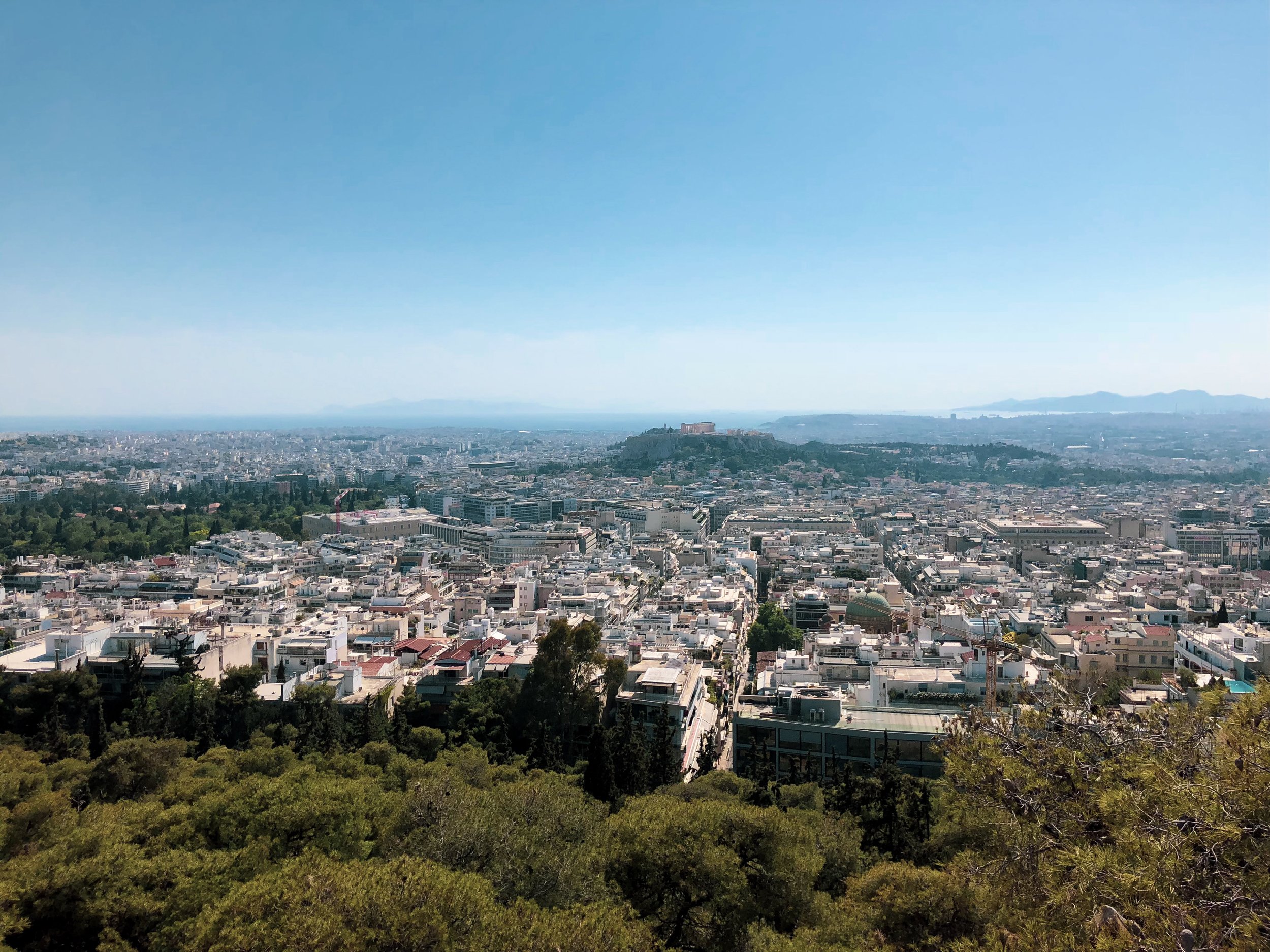 However, my favorite part of the tour was eating at a local Greek restaurant. The people were so kind and the food was freshly made with large portions and reasonable prices. They were super accommodating of my vegan diet and made sure I had a ton of veggies to eat.
Where to Stay
I recommend staying in the city center to be close to all the vegan restaurants and attractions. I stayed at an amazing hotel that had a neo-classical style (our bed had a chandelier above it). This hotel, The Hotel Grande Bertagne, has a pool on the roof, a gym, spa, and a rooftop restaurant, so it pretty much has everything you need. The hotel is more on the luxurious side, but it's part of the SPG family, so if you have points, it's worth it! There are tons of other hotels in the area though, so just look for hotels in the city center near Syntagma Square (this area is also near Plaka, a popular and lively street with a lot of fun restaurants and stores).